WEAVES (BOTH AFRO & EUROPEAN HAIR)
First associated with afro hair types, hair weave extensions have now become popular with all types of hair, because they are so versatile.
It's a fast and effective way to create a new hairstyle, have shorter or longer hair, add colour to your hair without using any chemicals or have it done temporarily for a special occasion. Weave extensions are also great if you are growing out a hair relaxer or perm.
The weaving process consists of cane rowing the desired sections of your hair then sewing a weft of hair directly to the cane rowed hair.
We offer full head weaves, half head weaves or rows of weave to create your desired look. A weave can add volume, length or you could add a fringe or maybe a flash of colour. You can have curly, straight, wavy, coloured, short or long hair… Whatever look you want!
A weave is fantastic because it gives you the opportunity to try a different style or colour without committing to changing your own hair.
MICRO WEAVES
fine cornrows to creat a flat base. Very natural looking. 
Full weave
LEAVE OUT WEAVE
BONDING (rows)
CLOSURE WEAVES
a piece of hair attached to the weave to give the impression of a realistic natural looking parting in the weave. Good for when all the hair is put away.
LASER WEAVE
none surgical, no bonding, no messy glue, no rings, no bulking completely natural looking and amazing results.
L.A. WEAVE
MICRO RINGS
Tracks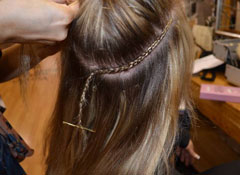 Sew in tracks ( also can this text go beside the pic below)
Applied by plaiting cane row tracks and sewing tips of weft hair
Average full head for Caucasian hair needs 3 – 5 rows
Afro hair needs 3-5 rows depending on desired thickness and last for up to 4-8 weeks if looked after properly.
MICRO RINGS WEFTS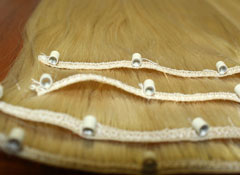 Combine both micro ring attachment and hair weft.
Hair is threaded through each micro ring is clamped flat to secure it in place.